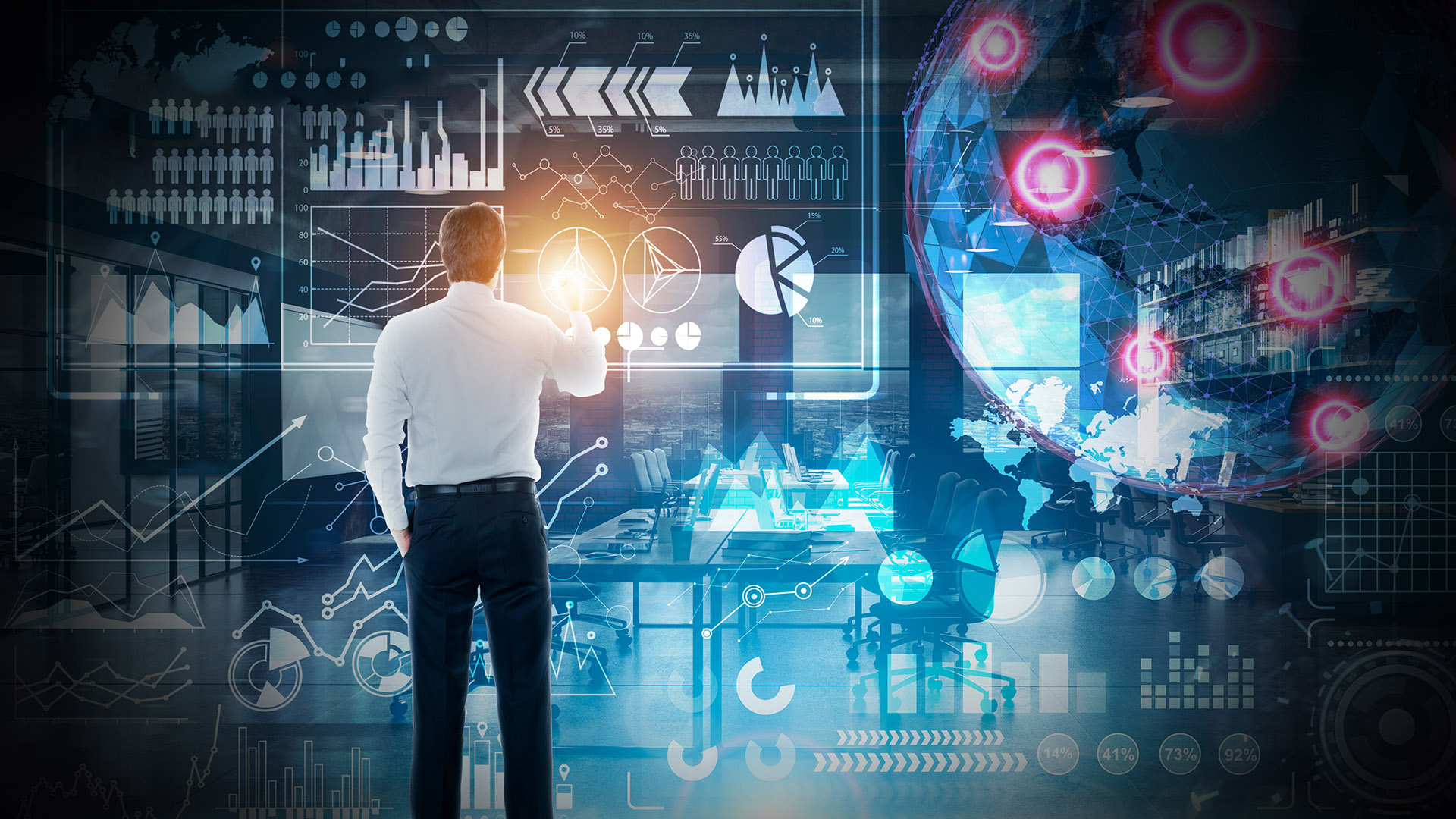 1. DIGITAL TRANSFORMATION
Olectra Technologies provides digital-first solutions by leveraging a solid technical foundation and forward-thinking capabilities to integrate digital technologies in all aspects of an enterprise. Our purpose-built methodologies enable businesses of all sizes to deliver value to their customers. To help enterprises stay resilient, Olectra helps modernize legacy systems and accelerate digital initiatives for optimum business transformation.
Our enterprise architects analyze your IT landscape in detail, evaluate every risk or challenge, and provide you with a feasible transformation project plan to enhance your digital capabilities. Olectra digital transformation strategies and high-value technology implementations help unlock the potential of your IT investments in terms of revenue growth and cost optimization.
Why Choose Us
We utilize our breadth and depth of technology knowledge to build customized solutions that deliver accelerated change for your business
OUR TECHNOLOGIES
Bonitasoft
Microsoft Services
Java Development Services
Cloud Support Services
Blockchain
Pega
UI/UX Design Services
Robotic Process Automation (RPA) Solutions
Mobile App Development
ServiceNow
Industries We Serve
Insurance
Hospitality
Healthcare
Manufacturing
2. FINANCIAL SERVICES
Financial Mobile App Development
We understand the business value that a well-designed and robustly-developed mobile app can bring to a financial services organisation. Whether it is improving brand perception, empowering customers action, increasing lifetime value or reducing the cost to serve. From Banking to Insurance, Wealth Management to Lending, we have worked for a range of visionary financial services clients on their fintech projects.
Expertise
Credit card mobile applications
Pensions mobile applications
Banking applications
Risk monitoring web applications
Insurance mobile applications
Financial Process Digitisation
We understand that driving change in the UK financial services industry is not always customer-facing. Digital technologies are driving scalable, sustainable change across the back office by transforming processes, verification, procedure, decision making and authentication. The infrastructure of the modern, cloud native bank is vastly different to the infrastructure of the telephony infrastructure of the 90's.
Expertise
Mortgage origination
Call centre transformation
Customer pre-approval
Eligibility checking
Digital signatures
Financial Services Articles & Insights
We love reading and writing about the financial services industry, whether it is changing customer motivations, new market entrants, the impact of emerging technologies or how businesses are leveraging open banking data, we have a passion for delivering informative, conversational content about the impact of fintech for financial services organisations.
Articles
Payments technology
Retirements revolution
Insurtech developments
Regtech innovation
Insurance digitisation
3. DATA SERVICES
Combined with the power of AI, Analytics, and Automation, Evoke Technologies gives enterprises a scalable, high-performance enterprise data integration solution.
Enterprises that start early and complete data related projects with Evoke Technologies have higher chances of transforming their business and seeing practical results and improving the business bottom line. Our highly qualified and experienced teams who have completed numerous successful projects over the period of last decade first understand our client's business goals and objectives and then focus on providing innovative solutions that produce superior value for both the client and its end-customers.
Our Capabilities
Data Security & Governance
Real-Time Data Integration
Data Quality Control
Data Profiling
Data Virtualization
Why Choose Us
Cross-functional team of 700+ technical and functional experts
Collaborative and open communication with clients
Prototypes novel concepts that help deliver differentiated projects
Shorter development cycles translating to better ROI
Flexible engagement models for development and support services
Cross-functional team of 700+ technical and functional experts
Collaborative and open communication with clients
Prototypes novel concepts that help deliver differentiated projects
Shorter development cycles translating to better ROI
Flexible engagement models for development and support services
Our Technologies
Data Science & AI
Big Data Analytics
BI & Data Warehousing
Industries We Serve
Insurance
Hospitality
Healthcare
Manufacturing
4. ERP AND CRM
Enterprise Resource Planning
Olectra specializes in helping businesses implement Enterprise Resource Planning (ERP) services that improve productivity, reduce costs, and accelerate return on investment. Since 2003, we have been helping our clients leverage Oracle applications to improve their business processes, enhance decision-making capabilities and achieve value-driven digital transformation.
Oracle E-Business Suite
Our implementation and deployment of Oracle E-Business Suite helps enterprises manage their complex business environments with various built-in components. Being an authorized Oracle Gold Partner helps us to be on top of all technology advancements associated with Oracle E-Business Suite.
We have the capabilities to offer solutions for various functions that include:
Supply Chain Management
Financial Planning & Management
Human Capital Management
Advanced Procurement
Customer Relationship Management
Oracle Cloud Applications
Enterprise Resource Planning (ERP) Modernization is a key component of an effective digital customer journey. It requires a significant commitment to time and resources and finding a proven vendor that you could trust is vital. Olectra with over 15 years of domain experience in association with Oracle Cloud Applications—a market leader in offering cloud-based solutions for ERP—is your perfect partner in modernizing ERP system for your company. Our pool of certified consultants holding an extensive ERP transformation & modernization experience helps you with assessments, implementations, and maintenance of your cloud portfolio.
Financials Cloud
SCM Cloud
PPM Cloud
EPM Cloud
Cloud Analytics
Right data leads to rights business decisions and Olectra enables precise analysis of data by implementing analytical tools that help businesses in strategic, tactical, and operational decision-making. Olectra helps clients gain deep insights into their data and integrate the market data by deploying and maintaining:
OBIEE
OBIA
Hyperion
Oracle Analytics Cloud
Oracle CPQ Cloud
At Olectra,we implement modern best practices for the industries to Configure, Price, and Quote Cloud (Oracle CPQ Cloud) to ensure that they have the answers to the customers explicit and implicit requirements We help our clients to grow in the new digital age by reducing business complexity and maximizing internal and external system adoption
OBIEE
OBIA
Hyperion
Oracle Analytics Cloud
Salesforce Solutions
Enabling Enterprises Develop and Implement Powerful Salesforce Based Solutions
Sales Cloud
Service Cloud
Marketing Cloud
Wave Analytics Cloud
5. Transportation Management
Logistics companies are struggling to cope up with challenges to maintain competitiveness and increase efficiency in operational processes. They are struggling to operate with manual or legacy transportation management systems. The complex design and implementation of traditional transportation management systems are creating redundant processes and reducing flexibility. Organizations are in need of a system that can handle all kinds of scenarios with ease of use and enhance productivity. fruiSCE® TMS is integrated with multiple processes to predict the trends of supply and demand that allows real-time visibility and thus it stands out be a unique solution in the offering.
One can choose to have a traditional TMS functionality which includes basic functions like Transport Order Management, Order Planning, Shipment execution, and so on. However, ® TMS provides its capabilities to all service providers in the transportation system which allows the user to have complete visibility and control on overall transportation transactions. Also, it suits perfectly to manage 3PL and shippers with complex transportation networks.
Key Benefits
Optimized Cost
Paperless Transactions
Complete Visibility
Proof Of Delivery
Powerful Analytics
Invoice Management
Flexible Payment Options
Traceability
Claims And Settlements
Route Optimization
Transport Management For All
Key Features
Transport Order Management
Transport Order Planning
Shipment Execution
Shipment Settlement
Container Management
Claims Management
Itinerary Management
Brokerage and Agents
Integration
6. Quality Engineering
QA & Software Testing Services
Transforming from Quality Assurance to Quality Engineering with Changing Digital Trends & Continuous Delivery Methodologies
Quality Assurance
Powered by 10 years of experience in testing, Olectra makes sure that our testing solutions not only meet but exceed client's expectations. With well-developed QA processes and latest tools & methodologies, we delivered the most challenging projects within time and budget.
Core Testing
Digital Transformation
Specialized Testing
Data Validation
Our Technologies
Automation Testing
Test & Defect Management
DevOps – Continuous Integration
ERP/CRM Testing
Mobile Testing
Web Services Testing
Security Testing
Performance Testing